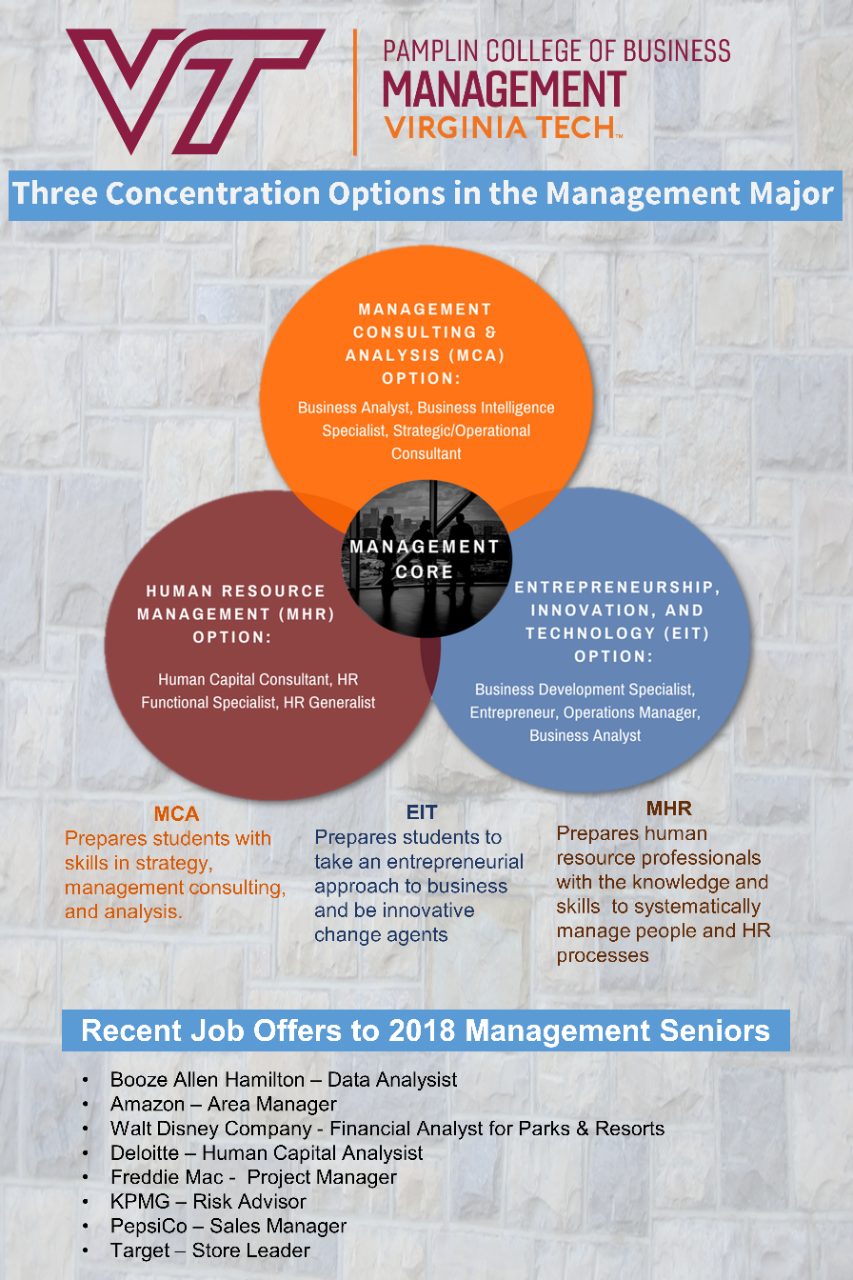 The Management Major
The Management Major prepares men and women to be effective managers capable of adding value in a wide range of organizations and business contexts in the global economy employing an entrepreneurial approach to business. We emphasize the development of versatile skills that are essential to achieve organizational goals: analytical problem-solving, communication skills, cross-functional thinking, leadership, ethical decision-making, and team work. Our undergraduate management major offers options in Entrepreneurship, Innovation, and Technology Management (EIT) and Human Resource Management (MHR), and Management Consulting and Analysis (MCA). We also offer minors in Business Leadership and Entrepreneurship – New Venture Growth to students throughout the University.

Entrepreneurship, Innovation & Technology Management (EIT)
Prepares students to take an entrepreneurial approach to building and enhancing organizations, from large firms to new startups. It is also suitable for students who intend to run their own businesses.
Human Resource Management (MHR)

Prepares general managers and human resource professionals with the knowledge and skills necessary to systematically manage people and human resource processes to achieve organizational objectives and improve effectiveness.
Management Consulting and Analysis (MCA)

Prepares students with skills in strategy and management analysis for careers in management consulting and business analytics. The option prepares students for careers in a wide range of consulting disciplines as well as general management.
 Why Choose the Management Major?
The curriculum in Management provides knowledge and skills critical for a wide variety of future business careers. The Management major is unique within the Pamplin College of Business because it fosters an integrated perspective of business enterprises. Course work in the traditional functional areas of accounting, operations, finance, marketing, information technology is coupled with core Management courses that provide approaches and development skills needed to lead people and manage projects in ways that add value to organizations. This core is further enhanced with a choice of one of three career-focused, nine-hour Management options: I) Entrepreneurship, Innovation and Technology Management, II) Human Resource Management or III) Management Consulting and Analysis. Students in Management are also eligible to participate in the Department of Management's Leadership minor and Business Diversity minor. Our curriculum emphasizes cross-functional thinking, analytical problem-solving, leadership, team work, communication skills, and ethical decision-making. Student learn how the separate business functions can be integrated to achieve a single, coordinated effort, especially in complex, technologically-based enterprises. Students are exposed to state-of-the-art ideas and practices regarding leadership, and are given multiple opportunities to develop their interpersonal skills while applying this knowledge in team projects. Strong emphasis is placed on development of written and oral communications skills and students are exposed to situations requiring complex ethical judgments.
 Internships and Other Experiential Activities
The Department of Management emphasizes experiential learning throughout the curriculum. Through course-integrated activities, students gain valuable work experience through service learning projects with community organizations. Students can also gain work experience through paid and unpaid internships and in Cooperative Education Programs. The department also encourages students to become involved in student organizations and volunteer activities so they can further develop their leadership skills. The Pamplin College of Business also provides a number of study abroad opportunities permitting students to exchange ideas with business leaders from around the world.
 I Want to Become a Management Major
If you would like more information about changing to or adding the Management Major please review the application and requirements and a schedule of informational sessions.
In addition to fulfilling the Pamplin College of Business core requirements, all Management majors must complete meet these specific Management major course requirements
Pamplin College of Business Core Requirements
MGT 3304: Management Theory and Leadership Practice
This survey course introduces the student to a broad range of concepts, theories and practices important for a basic understanding of management. Topics also focus on the environment in which today's managers must effectively operate. Sophomore standing required. (3H,3C)
MGT 4394: Strategic Management
Senior-level capstone course to formulate and implement strategies to create and sustain competitive advantage. Emphasis on developing pragmatic and action-oriented general management skills that integrate across functional areas of the organization. Utilize various tools, concepts, and analytical framework to define and analyze strategic problems. Revisits business principles and practices covered in basic business courses. Pre: Senior standing. Pre: 3304, MKTG 3104, FIN 3104, BIT 3414. Co: FIN 3055. (3H,3C).
Management Core Requirements
MGT 3324: Organization Behavior
This course examines the determinants and consequences of human behavior in formal organizations. Specific focus is on the individual, interpersonal, and group processes, which underlie all the human dynamics. PRE: MGT 3304.
MGT 3604: Managerial Analytics
Digital tools to analyze managerial data ranging from productivity data to large scale, organizational databases. Three themes: (1) analyzing and improving productivity using digital tools, (2) applying exploratory data tools; (3) improving organizational collaboration, analysis, and knowledge sharing using relational databases. Pre: ACIS 2504. Co: 3304.
MGT 4334: Ethical Leadership and Corporate Social Responsibility
The leadership role of managers in promoting ethics and corporate social responsibility in business today. Consideration of business-society issues such as environmental pollution, employee rights and responsibilities, discrimination/affirmative action, and the activities of multinational corporations. These issues will be examined through the conceptual frameworks of business ethics and corporate social responsibility. Pre: MGT 3304.
MGT 4344: Productivity and Quality Leadership
This introduction to leadership in the context of productivity and quality improvement focuses on understanding the concepts and the skills associated with contemporary management strategies and systems. This course requires active student involvement and emphasizes participative leadership skills, data collection, qualitative problem solving, and communication processes. PRE: MGT 3304, BIT 3414, and senior standing in management.
Entrepreneurship- New Venture Growth (ENVG Minor)
The Entrepreneurship-New Venture Growth Minor focuses on the knowledge and skills needed to create new ventures and lead their early growth. Students learn how to convert ideas into business successes, particularly in the context of engineering and science-based technology commercialization.
Business Leadership (BLC)
The Business Leadership Minor (BLC) provides students with the academic content and experiential activities necessary to serve as more effective leaders in their communities and professions. Each student participates in a leadership/service activity which enables them to explore different avenues of development. Leaders distinguish themselves in highly competitive job markets.
Both minors consist of eighteen (18) credit hours, and are designed to offer you many opportunities for valuable experiential learning as well as for customizing your programs of study.
Organizations need managers who are effective leaders in every business discipline. The skills developed through earning a Management degree prepares to create value in all functional areas of organizations. Many student benefit from combining a degree is one of the functional business disciplines with a degree with Management. Obtaining a second major could requires only a few credits beyond the 125 credits required for graduation. Anyone interested in the possibility of a double major with Management should contact their undergraduate academic advisor about submitting an application.